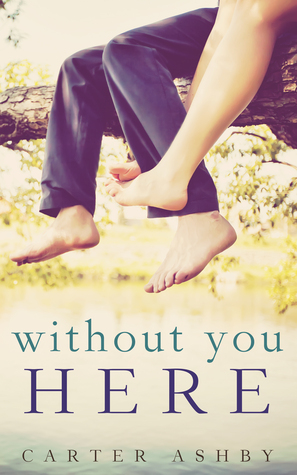 He didn't look up at me when he spoke. He was sopping up hollandaise sauce with a biscuit. "We should do this again, Ettie. Next weekend. How about it?"
My heart was suddenly thundering in my ears. I watched him as he pointedly focused on cleaning his plate. "Are you asking me to be your girlfriend?" I asked.
He finally looked up. Those blue eyes were hypnotic. And heartbreaking. "I'm asking you to have another fun weekend with me. That's what I'm asking."
My eyes fluttered as they started to sting. "Do you need to get to know me better before asking me to be your girlfriend?"
His jaw muscles tensed. "Ettie, I..."
"Look, Wyatt. I have had just the absolute best time of my life with you this weekend. I have all the information I need to know I want to be in a relationship with you."
He snorted and leaned back in his chair. "You don't know shit about me, Ettie. This was fun. But it was superficial and you know it."
My chest constricted. I had to take a moment to swallow back the pain. "It wasn't superficial. I'm sorry it didn't mean as much to you as it did to me..."
"It meant plenty and that's why I want to see you again. So let's do it, Ettie. Next weekend. We'll meet at the bar Friday and maybe we could road trip down to Gulf Shores or something. Or we could go zip-lining up at Cave City. All kinds of fun shit we could do together. That's what I want."
"I want to go home with you." He looked away and shook his head in frustration.
Sometimes the person you fall in love with isn't the best person to spend your life with.
Without You Her is a very unconventional love story which I'm sure would question the judgment of some of the readers who are not so open-minded.
From reading the first three chapters of the book, I had kind of figured out where the story will go. And as the story unfolds, I can't help but think of any book I can compare it to but I came up with nothing. This was the first time I've read a story as unique as this.
The book presents a dilemma that does not happen every day. There was a love triangle but what if the love triangle involves a father and a son?
Ettie is a hyperactive woman who will soon be graduating from college. All her life she was forced to stay at home by her paranoid mother. So when she got a chance, she ran away and began chasing her dreams. It was so wrong of her mother to lock her out from the world. She was diagnosed to have an ADHD and was put on a medicine. In addition to that, she was also partly dyslexic which made reading difficult for her. And because she always puts her best foot forward in everything she does, she managed to overcome her disabilities. She's now graduating with a 4.0 average.
Blake and Wyatt are a family who are still suffering from the grief of losing Amberlee. When Blake lost her mother, he also lost his dad, Wyatt, in the process. The loneliness may still strike Blake at times, but he had moved on. His dad, on the other hand, is another story.
5 years after Amberlee's diagnosis and 2 years after her death, Wyatt hasn't moved on from the grieving stage. He still follows the list that his wife wrote when she was sick. He still kept all her clothes in his closet. Even the arrangement of the things in their home is still the same. And this bothers his family. Unbeknownst to him, he was already experiencing the so-called depression.
Meeting Ettie, brought back the spark in his eyes. It brought back the light he hadn't seen for several years. He felt happy again. He felt like he could love again. But what he currently feels for Ettie is being hindered by Amberlee's memories. He felt guilty all the time. Add it to the fact that he's having a rendezvous with his son's girlfriend.
Aside from the major characters in the story, I also want to highlight Liza, Wyatt's mom. I love her role in Wyatt and Ettie's relationship. She may be old but she was an open-minded one. I love how supportive and understanding she is of what was transpiring between the two. She encouraged them both and assured them that they will be accepted by the society no matter what decision they come up with.
Carter Ashby was born and raised in Missouri. She is wife to a supportive, hard-working geek; homeschooling mother to three, future social miscreants; and caregiver to a high-strung, epileptic chihuahua and a severely accident-prone hound dog. Carter writes country romances and reads anything that sounds interesting.
a Rafflecopter giveaway
Labels: Book Enthusiast Promotions, Book Review, Carter Ashby, Excerpt, Giveaway, Release Day