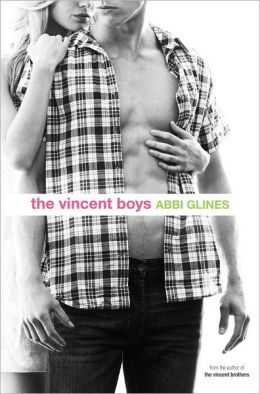 Title: The Vincent Boys
Author: Abbi Glines
Series: The Vincent Boys
Book: 1
Publication Date: October 12th, 2011
Publisher: Simon Pulse
ISBN: 1442485256
ISBN13: 9781442485259
Rating:

Get seduced by a sizzling account of attraction and betrayal in this previously self-published phenomenon.There was something wicked about Beau that drew me to him. What was wrong with me? Why did I want to sin so badly?
Ashton is getting tired of being good, of impressing her parents and playing ideal girlfriend to Sawyer Vincent. Sawyer is perfect, a regular Prince Charming, but when he leaves town for the summer, it's his cousin Beau who catches Ashton's eye. Beau is the sexiest guy she's ever seen, and even though he's dangerous, Ashton is drawn to him.
Beau loves his cousin like a brother, so the last thing he wants to do is make a move on Sawyer's girl. Ashton is off-limits, absolutely. That's why he does his best to keep his distance, even though he's been in love with her forever. When Ashton wants to rekindle their childhood friendship in Sawyer's absence, Beau knows he should say no.
Ashton and Beau don't want to hurt Sawyer. But the more they try to stay away from each other, the more intense their urges become. It's getting way too hard to resist...
This has been in my TBR list since like forever. So I decided to include it in my breather books. I've got a lot of books piled up for me to read. And my choices for the past two weeks are a little bit heavy. So in-between reading this books, I read a breather just to clear the atmosphere.
BEAU VINCENT. He's the boy gone unleashed. He's every girls dream hook up in their town. They're clamoring for his attention but he only got his eyes on one particular female, unfortunately, she's his bestfriend's girlfriend. He lives in a trailer with her mom, who waitresses in a bar. He mows lawns during his free time. He also plays football. During they're childhood, Ash and him were partners-in-crime and Sawyer always bailed them whenever they got in trouble.
ASHTON GRAY.
She's the preacher's daughter and everyone expects her to be perfect. She's Sawyer's girlfriend - had been for 3 years. Her inner self wants to be unleashed. She wanted to be as carefree as she was when she was a kid. She wanted to have fun. Getting close with Beau again was beginning to stir trouble.
I'm a sucker for bad boys but I drew a limit with Beau. I don't know why but I don't like him. In this book actually. Maybe because they cheated on Sawyer and I really like the boy. They should have waited for him to come home and Ashton should have broken up with him before they did the deed.
But then towards the end, it seemed like the author was trying to salvage Beau's character by saying that Sawyer was the one who stole Ashton from him. Still, it's not right to cheat especially if the one you're cheating is a nice person. You should settle matter first before doing it.
I'm really looking forward to Sawyer's and Lana's story. I'm already in love with the guy. All in all, it was a good read. You might actually love Beau, it's just that I have an issue with the cheating part.

Labels: Abbi Glines, Book Review